This blog explains what receiving different gifts from one's partner reveals about their relationship. Whether it's of low denomination or of a high one, different gifts symbolise different meanings. And here one can find all the secrets behind these gifts. 
Holidays are considered as one of the momentous periods for a couple – new or old. Whether you are making new memories or reliving the old ones, gifts play an essential role in making the bond stronger and longer.
Gifts become more sentimental and symbolic in a relationship with the passage of time. When someone receives a gift all of a sudden, without any occasion, it makes them burst into joy. It's important to make your partner realize your love towards them and gifting something is one of the many ways to make them feel special.
There are a few facts that tell about your relationship based on the gifts you receive. Let's take a closer look below to see what your holiday gifts say about your relationship:-
A Gift Card:
It simply means he considers you. He wants you to feel special but he probably didn't know what to get you. A gift card is way easier than choosing from several different kinds of gifts. Just select a gift card, write something lovely if you want to and give her. What a Win!
Travel Tickets:
A gift like this shows that your relationship has legs. The forward-thinking associated with a planned trip suggests both sides expect to be together. Travel tickets demonstrate that you both love taking mini-adventures together and that you have a deep bond. A perfect way to keep it fun and new is to begin exploring together.
Something You Mentioned a Long Time Ago:
Receiving something you mentioned a long time ago is like winning a jackpot. If you are receiving something you discussed a long time ago with your partner, your man should get ready to see a giant smile on your face for sure. This clearly shows that he really cares for his girl and remembers everything she mentions and desires to have.
Something Handmade:
Cheap yet priceless!
Seeing you wearing or using something that he created for you is exceptional and gives him a sense of accomplishment. It is a unique and special gift you can receive as it directly comes from his heart and is created with love and will always be cherished.
Clothing: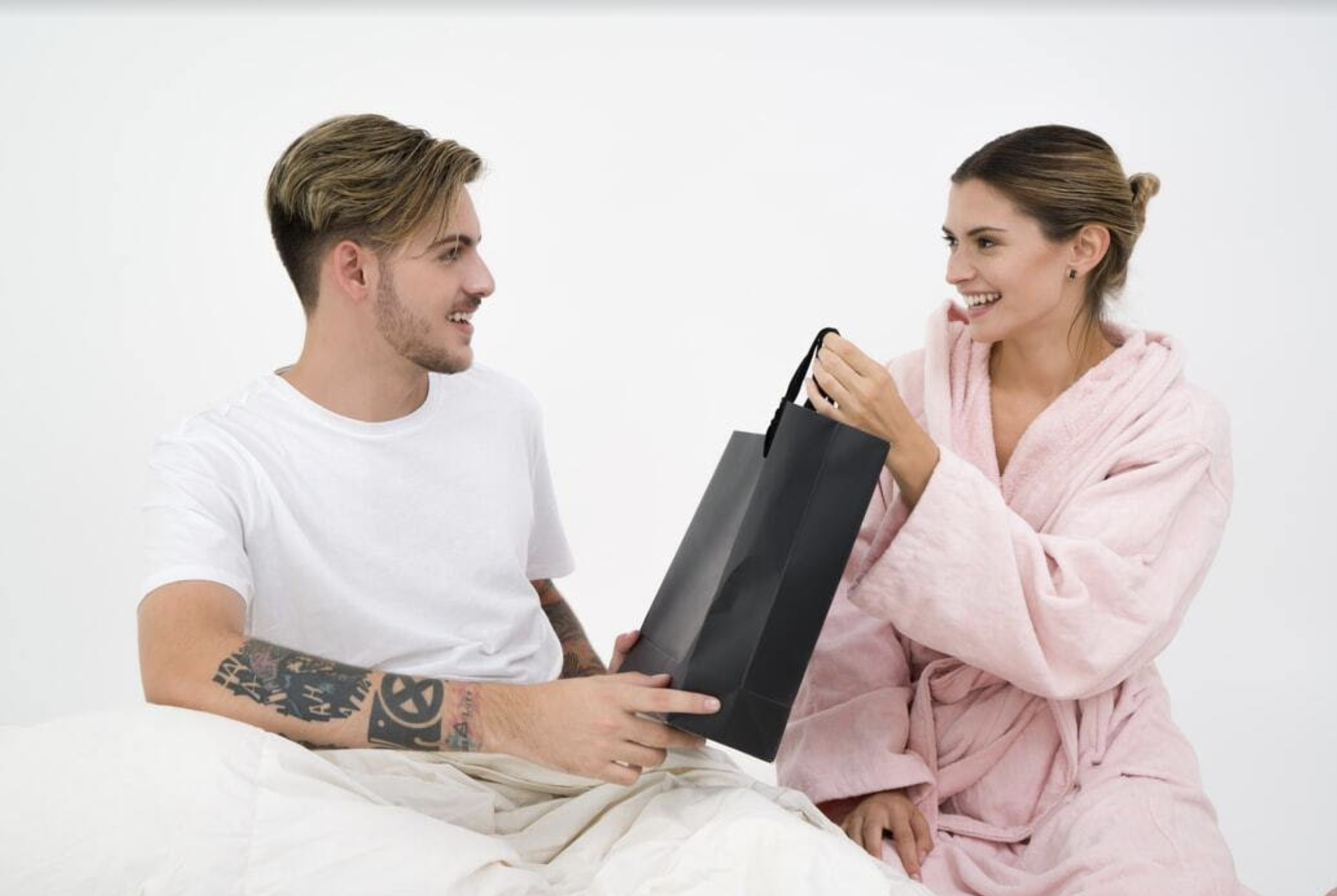 It's a gift that took time and some thought. Your partner cares for you a lot to choose something good out there, so don't push it off. If he gives you a dress on your birthday or anniversary then, he wants you to wear his choice on your special day which is so cute.
Jewelry:
This guy really wants to impress you! He thinks you are just amazing and wants to invest in you. Gifting something so expensive can be a sign that he thinks the world of you. Enjoy your gift, baby girl, this is really precious!
A Bunch of Flowers:
Flowers are a gift that literally can do wonders. Colors in flowers represent various emotions. Reds are romantic, yellow and pastels show compassion, oranges are a symbol of joy and happiness and flowers really score you some brownie points from your love. Thus, this is a gift you may give your partner even without any reason. If sending flowers is not romantic, we don't know what is!
A Song or a Poem:
Nothing can be more romantic than your partner writing a song or a poem for you as these are his honest feelings for you. This kind of gift shows that he thinks outside the box and he makes his own rules and enjoys living in the moment together with you.
You will gain great insights into your relationship by paying attention to the sorts of presents you receive from your partner. A perfect holiday present is one that is meaningful, requires time to produce or acquire, and indicates that the receiver is loved and understood—and a little romance never hurts.